Buzz Gravelle – composer, multi-instrumentalist and music educator – has been an advocate for new and experimental music for plucked strings since 1990. Recently Buzz has been exploring the fretless classical guitar, performing and composing for this beautiful variant, and has also brought his interest in new music to the mandolin. Buzz holds MFA and DMA degrees in music from UCLA. He serves on the music faculty of Cal Poly Pomona as an adjunct professor of music, and is the founder and director of the Santa Monica Academy of Music, a community music school located in Santa Monica, California.
Walter Marsh pursued a life in music as a classical guitarist from 1988 to 1995, and sporadically in years following, studying first with Matthew Elgart and then with Theodore Norman at UCLA, where Walter earned a Master of Fine Arts degree in guitar performance. His work as a soloist and with the Modern Arts Guitar Quartet transitioned to work as a teacher and then into the world of nonprofit arts management where he works today. In 2008 Walter returned to the guitar, studying modern music with Peter Yates, with a particular focus on the works of his mentor, Theodore Norman. Oh, and Ted – it's 16/34.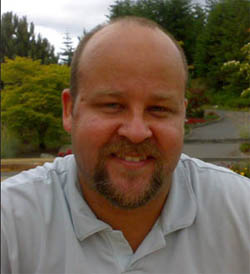 James Phillipsen received his BA in 1990 and MFA in 1994 from UCLA, where he studied classical guitar performance and composition with Theodore Norman. He currently composes music and creates audio for Nintendo Software Technology in Redmond, Washington where he is a Senior Sound Designer. In addition to doing sound for video games and interactive applications for the past fifteen years, he has composed many pieces for classical guitar, including two quartets, a trio, and numerous duos and solos. He has performed in Europe, Canada, Mexico, and the United States as a member of the Modern Arts Guitar Quartet.
Lawrence Schwedler's graduate work at UCLA in classical guitar performance and electronic music proved to be effective prerequisites for a successful career as a composer and sound designer for video games. In addition to full-time work as audio director on a string of commercial titles, he teaches music and sound design at the DigiPen Institute of Technology in Redmond, Washington. He lives with his wife, Randi, and their kids, Kiri and Ben, who put up with his stubborn pursuit of a second life as a singer/songwriter. He is currently working on a self-produced album of original songs.